Want to give your home an upgrade? Replacing the siding might do the trick. Of course, getting new siding for your home will cost you some, so you'll want to make sure you have enough reasons to pay for a replacement. If you see the following signs on your current siding, then replacement is definitely a viable option.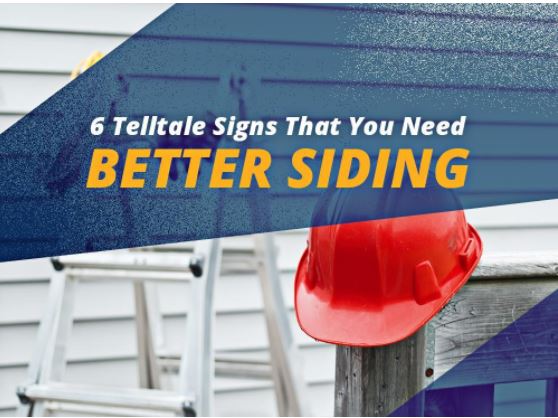 1. Faded Color
Faded siding never looks good in any home. Outdated siding panels can have a serious negative effect on your home's curb appeal and can even lower your property's perceived value. If you think the siding is already faded, it's probably time for an upgrade.
2. Staining
Color loss is bad for your siding, but so is the presence of unnecessary colors. Unsightly stains caused by rust or mold growth don't just affect your siding's appearance, but can also hint at other siding-related issues, such as moisture damage. If you see large stains on your siding, it's time to call your contractor.
3. Bubbles or Blisters
Certain types of siding material eventually form bubbles or blisters just under the surface. These imperfections are a sign that water has already penetrated the siding and that the panels are already deteriorating. Get new siding, and head off any potential problems that start with unsightly bubbles and blisters.
4. Gaps Between Panels
Your siding should form a watertight barrier around your home's exterior, but the panels can get warped or distorted over time due to wear and tear. These imperfections usually create gaps between individual panels that not only look bad, but also allow moisture to seep into the more vulnerable parts of the wall.
5. Cracks and Holes
Anything from strong impact to insect damage can cause cracks and holes to appear in your siding panels. Cracks and holes can greatly compromise your siding's ability to keep your home insulated and safe from the harsh elements.
6. Rising Electric Bills
Your siding plays an important role in keeping your home energy efficient. If your current siding fails to help reduce your monthly energy consumption, it should be replaced ASAP. The sooner you switch to more efficient siding, the more value you get out of the replacement in the long run.
Found any of these signs on your siding? Krech Exteriors has the perfect replacement siding options for you. We are the leading providers of high-quality roofing and siding services in Minneapolis. Just give us a call at (651) 968-888, or fill out our online form to request a free estimate.