Sliding windows are exceptionally versatile and can be chosen to replace most other window styles. In today's post, the local window replacement and roofing repair contractors at Krech Exteriors share the reasons why you can't go wrong by choosing sliding windows.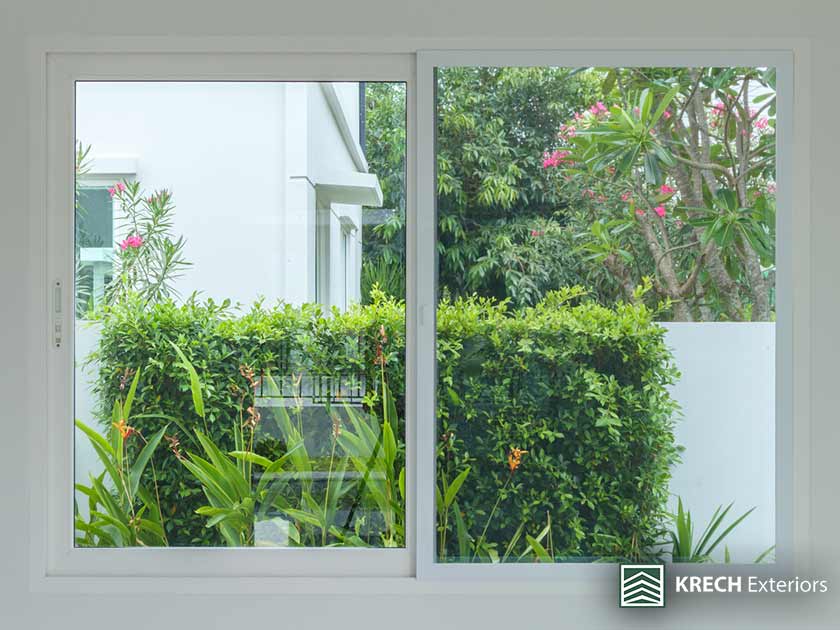 1. Sliding windows save space — Sliding window sashes stay within the bounds of their frame, which makes this window style ideal for areas where hinged or projecting windows may get in the way or cause accidents. Sliding windows also provide more flexibility with furniture placement and choice of window treatments.
2. Sliding windows allow more glass — The weight of sliding window sashes rest on the bottom part of the frame. This means weight doesn't affect operability as it does on other window styles, nor does it need hinges or counterweights to improve operability. This means you can choose new sliding windows with slim frames and sashes without worrying about whether they will be difficult to open. Bigger glass areas allow more natural light into the room and provide better views. Look for replacement windows with low SHGC (solar heat gain coefficient) ratings if heat from direct sunlight is a problem.
3. Sliding windows are easy to clean — Window cleaning and maintenance is not exactly anyone's favorite chore. It can even be dangerous if it involves cleaning upper-story floors, as one would have to climb near the roofing edges and risk injury. With sliding windows, you don't have to do this — the sashes can be removed easily and be laid down on a flat surface for easy and safe cleaning.
4. Sliding windows are easy to open and close — Sliding windows can be opened and closed with minimal effort. Whether you're busy in the kitchen or taking care of your kids, sliding windows will make ventilation through windows easy and effortless. Easy operability is a crucial feature for bedrooms, as residential building codes require at least one window that can be used as an emergency egress.
Krech Exteriors is your leading provider of roofing and window replacement services. Give us a call at (651) 349-4514. You can also fill out our contact form to schedule an appointment. We serve customers in Minneapolis and St. Paul, as well as the surrounding communities.