LP Panel Siding for Clean, Stylish Lines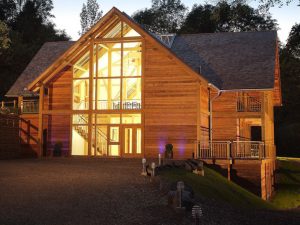 The clean, stylish lines of panel siding have never been easier to maintain, thanks to LP panel siding and its SmartGuard® finish. Krech Exteriors is your source for LP panel siding in St. Paul and Minneapolis, helping local homeowners to achieve the simple elegance that panel siding offers without having to worry about the constant maintenance required with traditional wooden siding.
With LP Panel Siding, the Choice is Yours
LP panel siding is available in a wide range of finishes and textures, each one as eye catching and attractive as the last. Working with our experienced design team here at Krech Exteriors, you'll choose the style that best suits your home. Before we hammer a single nail, we'll take precise measurements of your home to ensure that, when we custom craft your new LP panel siding, it will be the perfect fit- the first time.
Weather Tested Durability
Having been tested against some of the most extreme wind and weather conditions, LP panel siding is the ideal choice for siding in Minneapolis and St. Paul. Outperforming both wood and fiber cement, LP's engineered wood siding offers an advanced, unmatched durability and stability.
SmartGuard®
Like all of LP's siding styles, their engineered wood panel siding utilizes their advanced SmartGuard® finish. This finish, a combination of water resistant wax, advanced binders, and all-natural zinc borate, has been proven to withstand termite damage as well as fungal decay better than any traditional wooden siding. Plus, its resin-saturated overlay offers an extra protective layer that protects the siding's color.
FREE Estimate on LP Siding for St. Paul & Minneapolis Homeowners!
Krech Exteriors is your leading certified source for top quality LP siding in Minneapolis and St. Paul. Give us a call at (651) 688-6368 and set up your FREE in-home consultation with our local LP siding experts!