Roof Maintenance from Your Expert Roofer, Minneapolis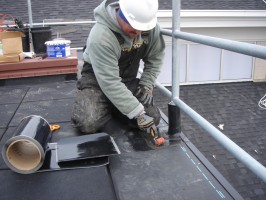 Do you remember the last time the roof of your Minnesota home was serviced? Many homes can change hands several times without maintenance, which can leave one unlucky homeowner with a weak, aging roofing system that cannot be repaired.
In order to avoid an expensive roof replacement, it is a good idea to regularly maintenance your home's Minneapolis roofing system. A roof that falls out of repair cannot properly protect your family or your investments. You, your family, and your possessions can be put into jeopardy by a roof that is not properly maintained by a professional roofing contractor Minneapolis trusts, like Krech Exteriors.
At Krech Exteriors we offer a comprehensive roof maintenance program to local homeowners in the area of Minneapolis and St. Paul. Roofing systems in this area can take a beating and must be regularly maintained. We will clean your roof, including all drains, of all dirt and debris, caulking any leaks or cracks we find as we go. Any problems we encounter will be reported directly to the owner, along with our suggestions for the correct course of action.
Every roof that is open to the elements is open to damage, so if your roof is damaged by a storm or falling debris, you're not alone. Krech Exteriors has serviced thousands of local homes in our more than 20 years in the Minneapolis roofing industry.
Krech Exteriors is fully certified to fix all kinds storm damage. Some local roofers, called "Storm Chasers," are not certified by their manufacturers. These uncertified roofers do shoddy work and will often leave you with more problems than you had to begin with. To avoid these "Storm Chasers" be sure to ask for proof of license and insurance when hiring a contractor. Better yet, just call the full certified roofing contractors Minneapolis homeowners count on to keep them covered- Krech Exteriors.
FREE Estimate on Siding & Roofing, Minneapolis!
The roofer Minneapolis and St. Paul turn to for all of their exterior improvement needs is Krech Exteriors. Specializing in roofing, siding, and window replacement, Minneapolis homeowners will be hard pressed to find higher quality exterior renovations. Give us a call at (651) 968-8888 and set up your FREE in-home consultation!