Install Energy Efficient Siding, Minneapolis, and Reap the Benefits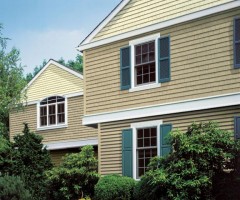 Krech Exteriors is a fully licensed Minneapolis siding contractor certified to install both James Hardie and Alside siding. Specializing in the installation of fiber cement and vinyl siding, we have the energy efficient siding Minneapolis residents need to dramatically decrease their energy costs.
James Hardie Siding
Why James Hardie home siding? For four years in a row, residing your home with James Hardie Fiber Cement has been the #1 Return on Investment among all home improvement projects. Remodeling Magazine has conducted this study since 1988 and is a trusted source among building and construction professionals. 2005 was the first year they evaluated fiber-cement siding replacement, and its debut at the top of the list demonstrates its value to builders and homeowners.
For residents of MN, you can boost the beauty and value of your home with James Hardie Fiber Cement Siding. Minneapolis homeowners turn to Krech Exteriors for this top quality product.
Vinyl Siding
Installing vinyl siding is a cost effective way to increase your home's curb appeal and energy efficiency. A home that is wrapped in vinyl siding will trap the energy you pay for inside, while keeping hot or cold air from penetrating your exterior walls. This will drive down your energy bills, freeing up some of your hard earned money for other purposes.
Cedar Siding
A more traditional material, cedar siding will give your home a rustic look that is desired by many homeowners in this region. Less easy to maintain and more expensive to install than fiber cement or vinyl siding, cedar siding may not be right for everyone. Be sure to discuss the right material for your home with one of our Minneapolis siding experts.
FREE Estimate on Siding & Roofing, Minneapolis!
The roofer Minneapolis and St. Paul turn to for all of their exterior improvement needs is Krech Exteriors. Specializing in roofing, siding, and window replacement, Minneapolis homeowners will be hard pressed to find higher quality exterior renovations. Give us a call at (651) 688-6368 and set up your FREE in-home consultation!