Types of Storm Damage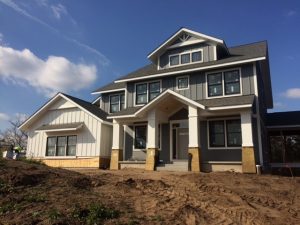 The roof of your Minneapolis home will take a beating over the years. Storms come and go, and with them they bring forces that can weaken or damage your Minneapolis roofing system. At Krech Exteriors we have been working locally for more than 20 years and can recognize and repair all kinds of storm damage.
Here are a few common types of storm damage we see on Minneapolis roofs:
Displaced asphalt tiles
Broken clay or concrete tiles
Stripped roofing
Leaking rainwater
Lightning damage
Hail damage
Destruction from a fallen branch or other debris
All of these, and many more, are ways that your home can be opened up to the dangers of water damage. Water damage can do more than just stain your walls and cause puddles in your living room, it can also lead to events as dangerous as electrical fires! So if your home is struck by any of these types of storm damage, it is vital to the structural integrity of your home that you call a professional roofer, Minneapolis.
Krech Exteriors is a fully licensed and insured MN roofing company. Often, after a storm hits the Minneapolis area, unlicensed roofers will pop up offering discounted prices. These companies are what we in the Minneapolis roofing industry like to call "Storm Chasers." If you hire one of these unlicensed, uncertified roofers you could be paying for their costly mistakes for years to come.
So when disaster strikes and your home is struck by storm damage, be sure to call Krech Exteriors. Our crew will promptly respond to tarp off any exposed areas of your home until we can properly and expertly repair or replace your Minneapolis roofing system.
FREE Estimate on Siding & Roofing, Minneapolis!
The roofer Minneapolis and St. Paul turn to for all of their exterior improvement needs is Krech Exteriors. Specializing in roofing, siding, and window replacement, Minneapolis homeowners will be hard pressed to find higher quality exterior renovations. Give us a call at (651) 968-8888 and set up your FREE in-home consultation!