Wrap Your Home in the Custom, Quality Finish of LP Lap Siding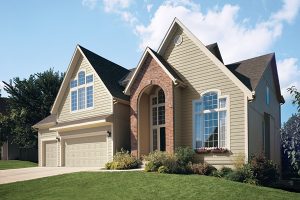 Versatile, durable, and the perfect compliment to your home's brick, stucco, or stone exterior features, LP lap siding is Minneapolis and St. Paul homeowner's #1 choice. When you wrap your home in this top quality, engineered wood siding you'll add lasting, eye catching curb appeal. And with the advanced SmartGuard® treatment, your new siding will stand the test of time.
Custom Crafted for Your Home
As a fully certified LP siding installer, we at Krech Exteriors are deeply experienced in the custom crafting of lap siding that will perfectly compliment your home. LP lap siding is available in a wide range of finishes and textures, each one as eye catching and beautiful as the last. And unlike traditional siding styles, which is typically produced in 12 ft. sections, LP lap siding is produced in 16 ft. sections. This gives the siding a smoother, more fluid appearance on the home by limiting the amount of seams between siding sections.
SmartGuard® Treated for Lasting Protection
LP lap siding is treated with their revolutionary SmartGuard® process, which combines advanced water-resistant wax, durable resin for lasting color protection, natural zinc borate for protection against terminates and fungus, and advanced binders. With SmartGuard®, your new lap siding will stand the test of time, maintaining its factory finish through even the harshest elements, with little required maintenance.
When the times comes to wrap your home in new siding, make the smart choice. Choose LP lap siding from Krech Exteriors, the leading local source for quality siding in St. Paul and Minneapolis.
FREE Estimate on LP Siding for Minneapolis Homeowners!
Krech Exteriors is your leading certified source for top quality LP siding in St. Paul and Minneapolis. Give us a call at (651) 688-6368 and set up your FREE in-home consultation with our local LP siding experts!