CertainTeed is known for its quality and affordable roofing products. This year, they have announced a new addition to their luxury roofing collection: Belmont™ shingles. As one of CertainTeed's certified roofing repair contractors, Krech Exteriors shares details about this new roofing product line.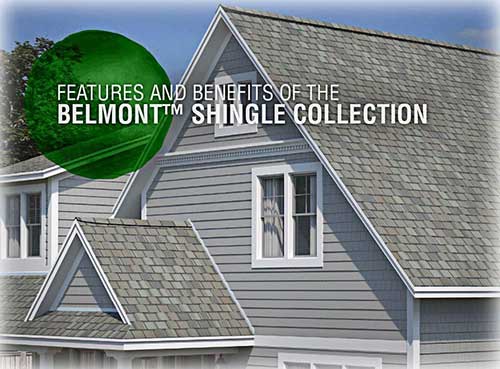 What Is It?
Belmont shingles blend the natural beauty of slate with the state-of-the-art performance of CertainTeed asphalt shingles. This asphalt laminate roofing material achieves a natural slate look through contrasting shadow lines and realistic slate color palettes. The Belmont is certified as meeting UL standards for performance and quality.
What Are Its Features and Benefits?
We recommend Belmont shingles for your next roofing project because of the following:
Boosts curb appeal – Slate is one of the most beautiful roofing materials on the market today. Many shingle products have been made to mimic the look of natural slate, but few come to achieving its dimensional look. CertainTeed crafts Belmont shingles from two laminated layers of asphalt. Combined with a rich granule blend, the shingle line creates distinct shadow lines that form a dimensional look. You can choose from six classic color options to better match your home's color palette.

Can be installed on most roof decks – Natural slate is heavier than most roofing materials, and not all roofs can accommodate this weight. In most cases, the roof deck may need reinforcement, which would incur additional costs. Belmont shingles, on the other hand, weighs just the same as regular asphalt shingles. We can install them on most roof decks without modifications needed.

Superior protection – Belmont features superior protection against the elements and has been UL-certified for fire, wind, and impact resistance. This shingle line is a component of the CertainTeed Integrity Roof System. This means that Belmont assures that the entire roof, including underlayments, hip and ridge caps, and attic ventilation, will protect your home completely. With a lifetime limited warranty against manufacturing defects, you'll also have the confidence that you'll enjoy your Belmont roof for a long time.
If you want to invest in a Belmont roofing system, trust Krech Exteriors for high-quality installation. With Belmont shingles, you can create a classic look for your home at a fraction of a cost. Call us today at (651) 968-8888 to learn more about this shingle line. You can also fill out our contact form for a free in-home consultation. We can help homeowners in Minneapolis and St. Paul areas.