Your roof constantly protects one of your most valuable and important investments: your home. Unfortunately, this leaves your roof vulnerable to wear and tear from the weather. It's important to invest in a proactive maintenance program to ensure that the system provides full protection. Here are some of the benefits of proactive maintenance: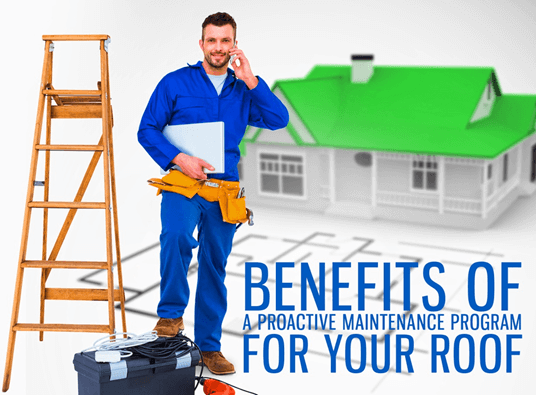 Improved Life Span
Many expert roofing repair contactors agree that proactive maintenance can help homeowners make the most from their roof investment. Spot repairs and regular cleaning counteracts a roof's wear and tear. Correcting problems early on prevents a small leak from turning into a crisis. This increases your roof's service life and assures you of more savings. Your roof will last longer and won't require extensive repairs, so you'll pay less over time.
Better Weather Resistance
As a roofing specialist, we can increase your roof's weather resistance through our proactive maintenance program. Holes and cracks in your roof are vulnerable to water invasion. Once leaks form, water can damage your roof's structure and reach your ceiling. Regular maintenance prevents this from happening. We will seal the small gaps in your roof, increasing its resistance to bad weather. With your roof in good condition at all times, you won't need to worry about the dangers of water damage.
Increased Energy Efficiency
Sealing the gaps in your roof also makes your home more energy-efficient. These small cracks and holes can cause energy to escape from your attic. Your attic's uneven temperature then causes your HVAC systems to consume more energy to keep your interior temperature stable. Our roofing maintenance program ensures that your roof creates an effective thermal barrier. This leads to a more stable indoor temperature and smaller energy bills.
Proactive maintenance can save you money, increase the life span of your roof, and keep your home safe from the weather. Krech Exteriors offers a comprehensive maintenance program to our customers. We can clean your roof and drains of all dirt and debris, and even caulk any leaks of cracks. We'll report all of our findings and recommend to you the best course of action. We serve many areas, including Minneapolis, St. Paul, Eagan, Apple Valley, and Roseville. Call us at (651) 968-8888 to learn more about roof maintenance. You can also ask for a free estimate.