Almost every home improvement project is about preventing water getting into the house. Krech Exteriors aim to keep your roofs and siding in top shape and your gutters clog-free. We take measures to make sure homes don't get flooded.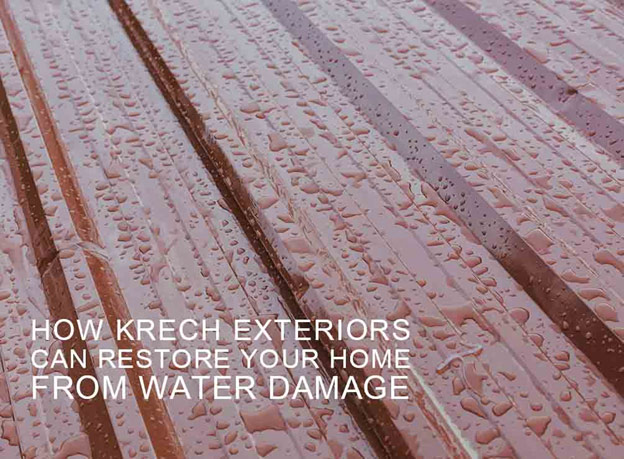 Water damage is clearly a common problem that every homeowner has to deal with at varying degrees – from structural damage caused by hail and flooding, to health hazards caused by mold and mildew growth. If you're looking for roofing repair contractors in Minneapolis that have extensive experience in providing effective restoration solutions to water damage, consult Krech Exteriors.
Here's how we go about our water intrusion restoration service:
Assessment
We start with determining the extent of the damage. We'll then map out the next steps to solve the problem. We can also help with stucco cuts and other services as needed to have a complete and accurate damage evaluation.
Estimate
Once we have all the data, we'll start designing a solution. The simplest and fastest solution is to simply perform outright repairs. Nonetheless, some homeowners see this as an opportunity to improve their homes. These include working on their St. Paul roofing and siding color. Regardless of the level of restoration and repair you eventually go for, we will discuss all the details with you personally. We'll come up with a detailed work plan, the time frame, and a detailed cost estimate.
Restoration
During the restoration process, we'll make sure that our workers keep the work area isolated. This means you can proceed with your daily tasks without interruption. In the event we discover previously hidden problems during the restoration, we'll inform you. We believe it's better to prevent potential problems while they can be repaired at this stage. We'll conduct the necessary Minneapolis roofing repairs.
Assistance
We've had experience with cases where water damage is covered by a homeowner's insurance policy. When we assess the damage, we keep everything documented and work closely with insurance companies to expedite the claims process.
If you would like to know more on how our water intrusion restoration solutions have helped homeowners in the Minneapolis and St. Paul areas, contact Krech Exteriors. Call us today at (651) 968-8888 or use our form.