While getting a roof replacement can be significant investment, it can be cost-effective in the long term. Krech Exteriors uses only the best quality roofing materials, so you can be sure of our roofs' performance through the years. In addition, if you invest in a cool roof, you can recover your initial investment over time. Here are the cost-effective benefits of our roofs.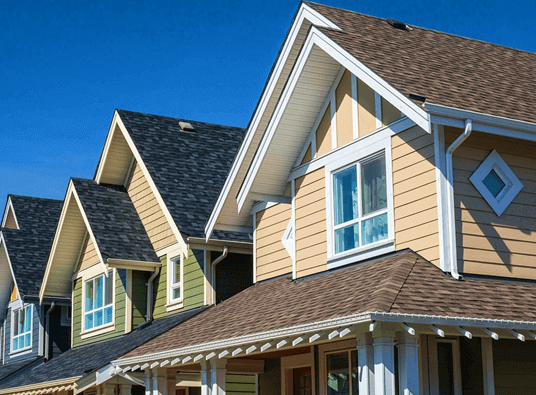 Longevity
Even the best repairs are a temporary solution, particularly if the roof is several decades old already. By holding on to your current roof, you may end up paying more over time. As an expert roofing contractor in Minneapolis, we recommend replacing your roof with one of our quality options. Our impact-resistant asphalt shingles, metal, tile, and slate are all durable.
Durability
Investing in high-quality and long-lasting materials is always better than the alternative. The longer your roof lasts and the more durable it is, the less you will have to pay for it over time. Let us discuss the typical life spans of our first-class roofing in St Paul. With proper maintenance, our asphalt shingles can last for 25 years or more. Our metal roofing can protect your home for over 50 years. Finally, our slate and tile roofing can last for over a century with proper care.
Energy Efficiency
Increased energy efficiency is another major benefit of replacing your roof. Energy-efficient roofs work by keeping heat away from your attic. For instance, our energy-efficient asphalt shingles and metal roofing have reflective properties that block heat from getting through. On the other hand, our tile roofing system can create a natural airflow barrier underneath the roof that does the same thing. As the leading roofer in St Paul, we highly recommend getting an energy-efficient roof for your home.
Energy-efficient roofs can help you save money on your energy bills. Your utility systems don't have to work as hard to maintain a comfortable indoor temperature because your attic is cool. This leads to reduced energy consumption and utility bills. Over time, these savings will add up, eventually paying for the initial cost of the roof installation.
We have a variety of durable, energy-efficient, and long-lasting roofing options. Our asphalt shingles, slate, metal, and tile roofing all provide distinctive benefits. During our initial consultation, we'll perform a thorough evaluation of your home. This will help us determine which of our roof options is best for your particular situation. Give us a call to learn more about our roofs' cost-effective benefits or to request a free estimate.